CoolSculpting is a non-invasive procedure that gently and effectively reduces fat in targeted areas of your body, resulting in natural-looking fat reduction. CoolSculpting utilizes advanced cooling technology that targets and eliminates fat cells. Unlike traditional invasive surgical procedures, CoolSculpting uses no needles or incisions. There is no need for anesthesia or pain medications, and there is little-to-no downtime; most patients are able to return to their normal activities the same day.
CoolSculpting, or cryolipolysis technology, has shown remarkable efficacy in early research and clinical trials and has been used in clinical practice with great success. During the procedure, a non-invasive applicator delivers precisely controlled cooling to target and eliminate fat cells in specific areas of your body. When fat cells are exposed to cooling during the CoolSculpting procedure, it triggers a process of natural removal, which gradually reduces the thickness of the fat layer by around 20 percent. The result is a decrease in fat bulges that is visible in most patients in about two to four months.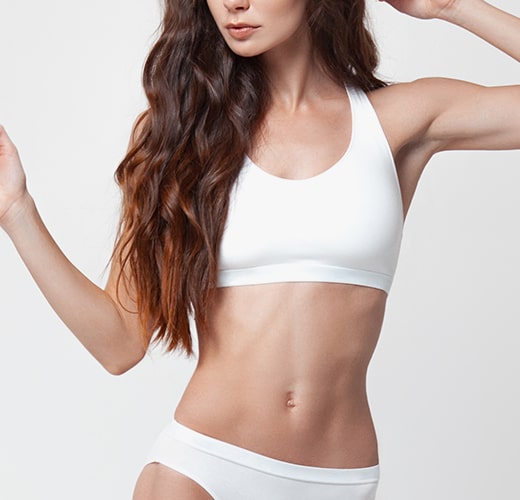 When you arrive at Laser & Skin, we seat you in an adjustable treatment chair and explain the CoolSculpting process. Topical numbing isn't necessary. The first step is to position the CoolSculpting applicator over the target area. If you're having your double chin treated, we'll use the smaller CoolMini applicator. The CoolSculpting applicator then delivers a light suction that draws the skin, underlying tissue, and fat up between three cooling panels. You'll feel a pulling sensation, but it isn't painful.
The next step is to set the cooling temperature. Then the CoolSculpting applicator panels deliver cooling downward into the drawn-up tissue. At first, you'll feel an intense cooling sensation, but then the area numbs, and the cooling freezes the fat cells. We repeat this process across the treatment area. A session can take from 35 minutes to three hours, depending on the size of the treatment area. While the procedure is ongoing, you can read, work on your laptop, or even take a nap.
After your procedure, your body gets to work eliminating the frozen fat cells. This takes a few weeks, but you'll end up with approximately 20-25 percent less fat in the treatment area and a slimmer contour to show for it.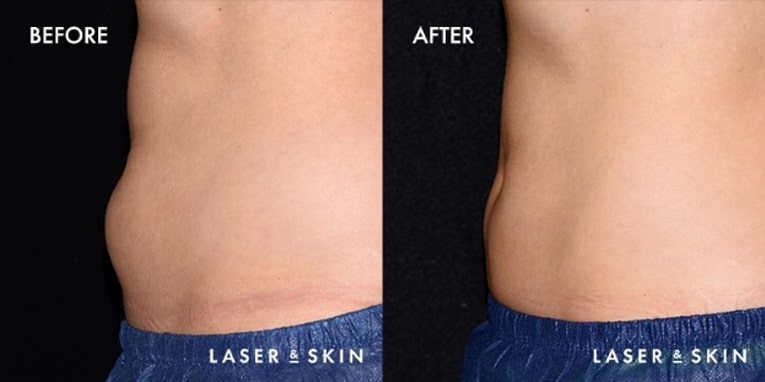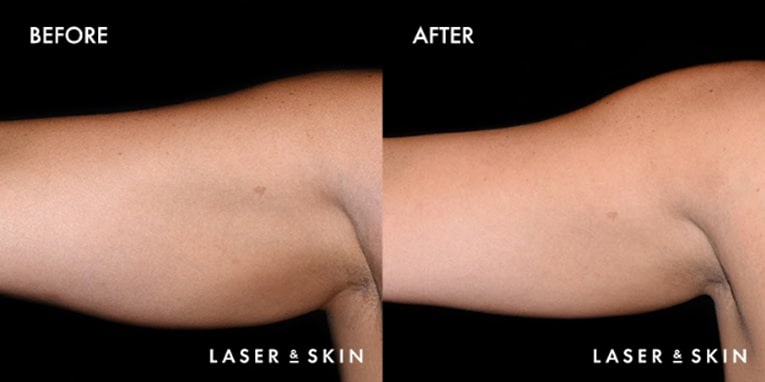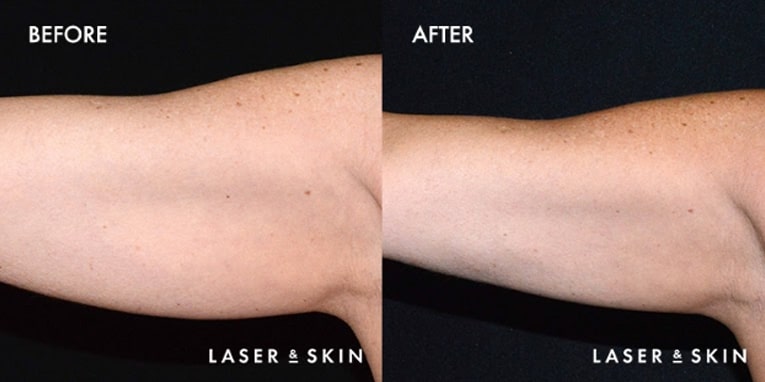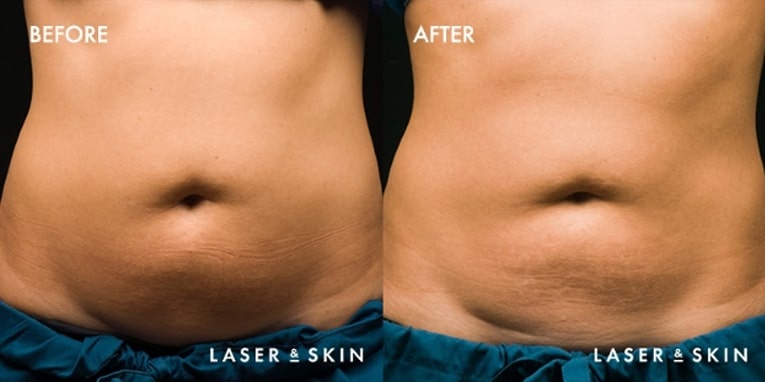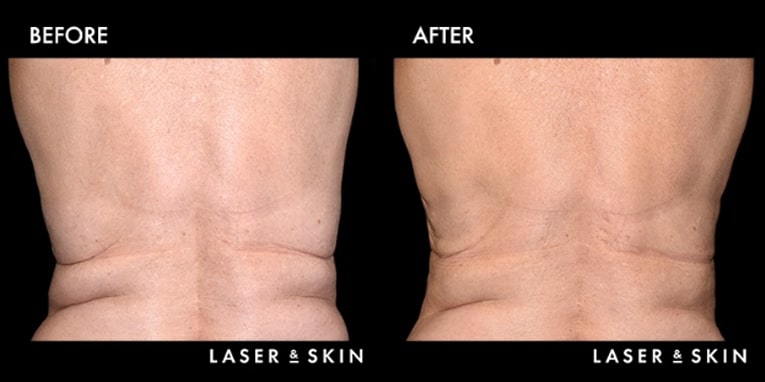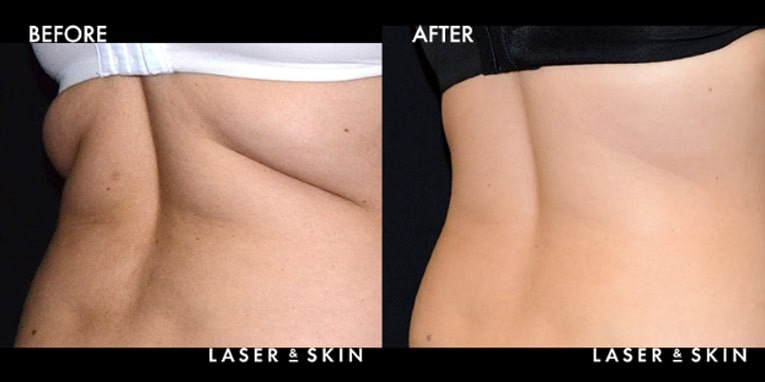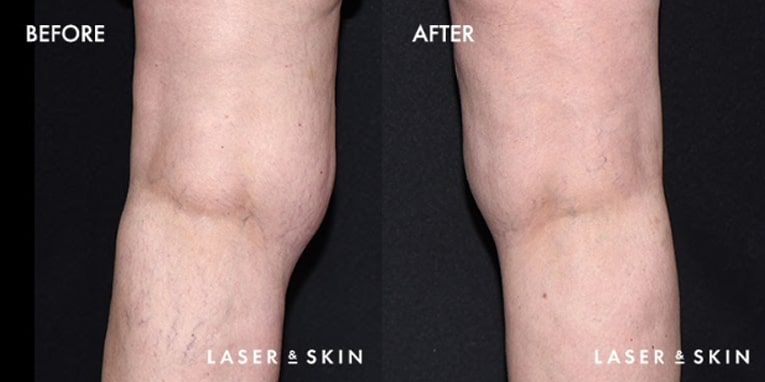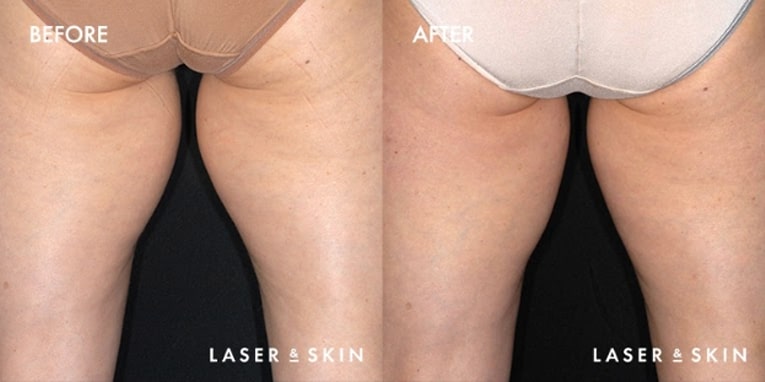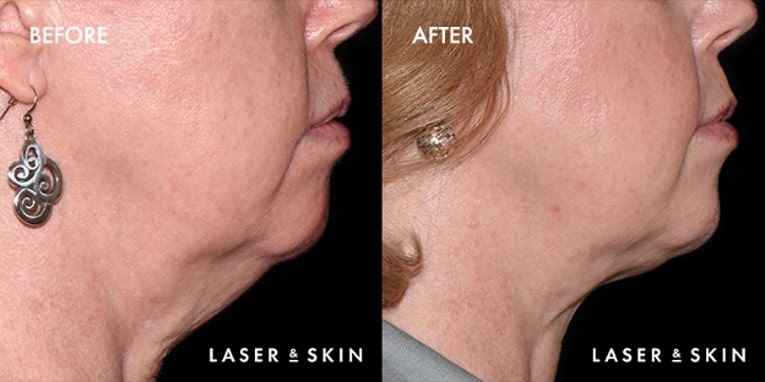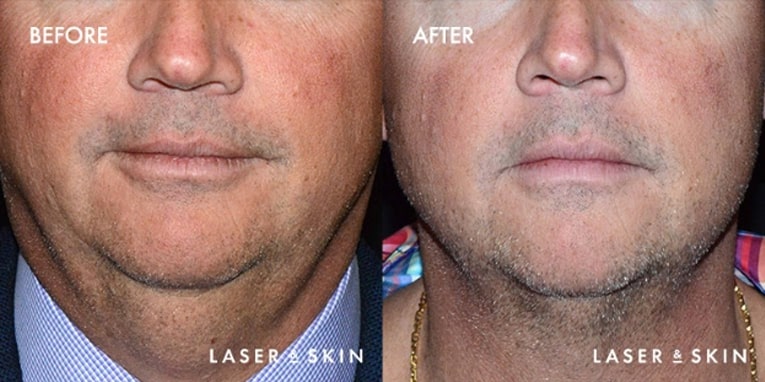 Treatments_BodyContouring-CoolSculpting1
Treatments_BodyContouring-CoolSculpting2
Treatments_BodyContouring-CoolSculpting3
Treatments_BodyContouring-CoolSculpting4
Treatments_BodyContouring-CoolSculpting5
Treatments_BodyContouring-CoolSculpting6
Treatments_BodyContouring-CoolSculpting7
Treatments_BodyContouring-CoolSculpting8
Treatments_BodyContouring-CoolSculpting9
Treatments_BodyContouring-CoolSculpting10
After the procedure, there's no recovery time and patients can resume their normal activities the same day, including work and exercise.
Frequently Asked Questions
Why is laser & skin is the premier coolsculpting facility in northern california?
The Laser & Skin Surgery Center of Northern California is the region's leading expert with CoolSculpting. In fact, the first ever CoolSculpting treatment performed on a human subject was performed in our Sacramento office in 2005. Dr. Kilmer currently sits on the Medical Advisory Board for CoolSculpting. Our practice is a CoolSculpting Certified Practice, and we are designated as a Premier Crystal Practice because we perform more CoolSculpting treatments than any other practice in the region. The Laser & Skin Surgery Center has four CoolSculpting devices in our practice, enabling us to treat multiple areas at once, saving our patients time.
We are an FDA Clinical Trial Site for CoolSculpting.
We have all of the latest CoolSculpting applicators and technologies, often receiving them before they are available to other practices.
Dr. Kilmer has lectured internationally and published numerous articles on CoolSculpting in medical journals.
With four CoolSculpting devices in the practice, we have the ability to perform treatments on multiple areas at once (Dual-Sculpting), saving you time.
Who are ideal candidates for coolsculpting treatments?
Some people assume they could use CoolSculpting as a weight-loss treatment, but this is not the case. CoolSculpting is meant to reduce isolated pockets of fat that are very difficult to target and shrink with changes in diet and exercise. At the Laser & Skin Surgery Center of Northern California, we generally want our CoolSculpting patients to be within 20 to 30 pounds of their ideal body weight for best results.
What are the benefits of coolsculpting?
Obviously, being able to reduce stubborn fat pockets by 20 to 25 percent has undeniable benefits, but there is more to it with CoolSculpting.
Remove approximately 20-25 percent of the fat in the treatment areas.
Completely non-invasive.
No injections. No incisions.
During your session, you can read, take a nap, or work on your laptop.
There is no downtime, just slight tenderness in the treatment area for approximately a week.
There is no recovery.
FDA approval for nine different treatment areas.
No danger of skin burning or damage.
More than 6 million procedures have been done worldwide, with over 5,000 treatments performed in our office alone.
Just about anyone can have CoolSculpting done.
What areas can be treated with coolsculpting?
Initially, the FDA approved CoolSculpting for the abdomen, with our office performing those initial clinical trials. Since that first approval, more and more treatment areas have been given the green light:
Abdomen
Thighs
Back fat
Bra line fat
Upper arms
Flanks
Underneath the buttocks
Double chin
Knees
Why is laser & skin is the premier coolsculpting facility in northern california?
Laser & Skin has been doing CoolSculpting longer than any practice in the world, starting with the first human clinical trial. 
Dr. Kilmer was on the medical advisory board for the original start-up company, then called Juniper, which evolved into Zeltiq. Based on many of her suggestions and leadership in the initial human clinical trial, CoolSculpting is a worldwide, premier way to permanently remove fat to enhance body sculpting. CoolScuplting became so successful, the company was purchased by Allergan and is now part of its Brilliant Distinctions program. 
We are now up to four machines and avid proponents of dual-sculpting and treatment for transformation – treating any size fat accumulation in nearly any location.
How many coolsculpting treatments will i need?
CoolSculpting treatment plans are customized for each patient. Our CoolSculpting Specialists will work with you to create a treatment plan to reach your individual goals, bearing in mind the 20-25 percent fat reduction per treatment. Two to three treatments typically yield the best results.
Will coolsculpting help me lose weight on a scale?
As mentioned, CoolSculpting is not a weight-loss procedure. It reduces the fat in the treatment areas by up to 25 percent per treatment. Most patients will not see a reduction in the number on the scale but will see an improvement in how their clothing fits.
What is coolsculpting using coolmini?
The CoolMini applicator uses the same technology and procedure, but simply delivers the cooling through a much smaller applicator. This enables fat reduction on smaller areas, such as the submental (double chin). The FDA approved the CoolMini applicator in 2017 after Dr. Kilmer, as principal investigator, performed the clinical trial here in our office.
IS COOLSCULPTING FDA APPROVED?
CoolSculpting is cleared by the U.S. FDA for use in non-invasive fat layer reduction through cold-assisted lipolysis. The Laser & Skin Surgery Center of Northern California has been a key clinical study site for the studies that gained CoolSculpting its FDA approval.
DOES COOLSCULPTING HURT?
Our patients find the procedure easy to tolerate. Anesthesia and pain medication are not needed so patients can read a book, listen to music, work on their laptop or just relax during the procedure. When the applicator is placed on the skin, patients feel pulling from the vacuum pressure that brings the skin into contact with the cooling panels. When the procedure begins, patients feel a cooling sensation that goes away after a few minutes as the cooling produces an anesthetic effect. Patient discomfort during the procedure has not been a complaint in clinical practice.
ARE THERE ANY SIDE EFFECTS, AND WILL PATIENTS EXPERIENCE FROSTBITE FROM THE COOLING?
CoolSculpting is designed to deliver precise and controlled cooling to the fat cells below the skin layer without harming the skin. It is a completely non-invasive procedure, and no long-term or significant side effects have been observed. There may be some redness in the treated area, which can last from a few minutes to a few hours. Some localized bruising may occur, which typically clears eventually.
HOW DOES COOLSCULPTING COMPARE WITH LIPOSUCTION?
Liposuction is a surgical procedure. Small incisions are made to provide entry points for the cannula, which is then inserted to suction away the fat cells. Liposuction also creates a certain amount of bruising and tissue trauma due to the cannula being moved about under the skin. This dictates a recovery period of a couple days or more, depending on how large the areas involved. Liposuction also removes more fat in a treatment area.
CoolSculpting is completely non-invasive. There are no incisions, no scars, and no recovery. After treatment, we briefly massage the treatment areas to get the blood flowing through the area, and then you can get right back to your normal activities. CoolSculpting removes up to one-fourth of the fat in the areas treated, and you can read a book while the treatment is being done. It's a simple way to slim your contour and remove some stubborn fat.
CAN COOLSCULPTING BE COMBINED WITH OTHER PROCEDURES?
CoolSculpting can be combined with any number of other procedures at the Laser & Skin Surgery Center. Whether you seek to fill a smile line or have a HydraFacial, you can combine just about all of our procedures at Laser & Skin Surgery Center of Northern California with CoolSculpting treatment.
IS THERE A COOLSCULPTING TREATMENT REWARDS PROGRAM?
Brilliant Distinctions Program – For further savings on CoolSculpting treatments, join Brilliant Distinctions, Allergan's point-based rewards program.