Facial redness can be caused by a number of conditions, including rosacea, broken blood vessels from sun damage, seborrhea, and acne. 
Rosacea is a common skin condition that causes redness- and sometimes small bumps and pimples– on the nose, cheeks, chin, and forehead. It also can cause burning and soreness in the eyes. The condition worsens when the blood vessels in the face expand. Common triggers are exercise, sun and wind exposure, hot weather, stress, spicy foods, alcohol, temperature swings, and hot baths. Rhinophyma is an extreme example of Rosacea.

Seborrhea is a chronic skin condition in which one or more persistent, red, scaly, and dry patches of skin appear on the face. It can occur on the hairline, forehead, neck, ears, and facial skin. It rarely occurs solely on the face.

Acne occurs when the pores of the skin become clogged with oil, dead skin cells, and bacteria. Affected areas exhibit redness and pimples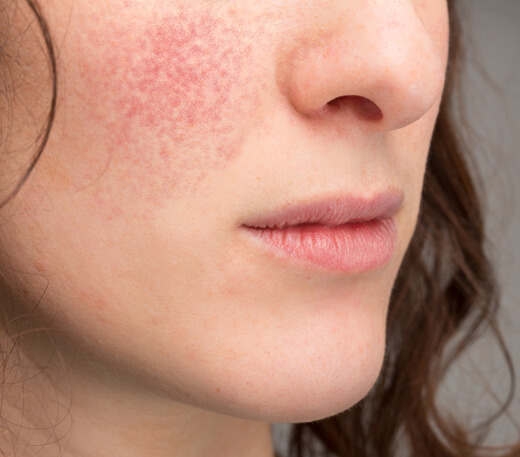 There are many options to treat facial redness including lasers that treat vascular conditions, non-ablative lasers, facial treatments, prescription medication and over-the-counter medical-grade skincare products.  Book a consultation to determine what is the best treatment plan for you.