What is Silhouette Instalift?
Silhouette InstaLift is a minimally invasive facial rejuvenation procedure that lifts sagging facial skin. Silhouette InstaLift uses sutures made of dissolvable glycolide/L-lactide (PLGA) strands to lift the skin and decrease deep lines on the neck, jowls, and smile lines. It also helps to increase and restore midface volume for a naturally youthful appearance.
Silhouette Instalift is an in-office procedure performed with local anesthesia. The sutures, which are eventually absorbed by the body, lift and reposition the deep structure of the skin using a series of bi-directional cones, which anchor the elevated surface in an elevated position. Over time, the implanted suture and cones stimulate the body to produce collagen. The new collagen increases and restores volume in the midface, complementing the lift for even longer-lasting results. The improvement in facial shape will last up to 18 months.
Silhouette Instalift is a good option for those looking to experience the effects of a facelift without the risk and downtime of surgery. Silhouette Instalift can be combined with Botox, fillers and lasers for more comprehensive facial rejuvenation.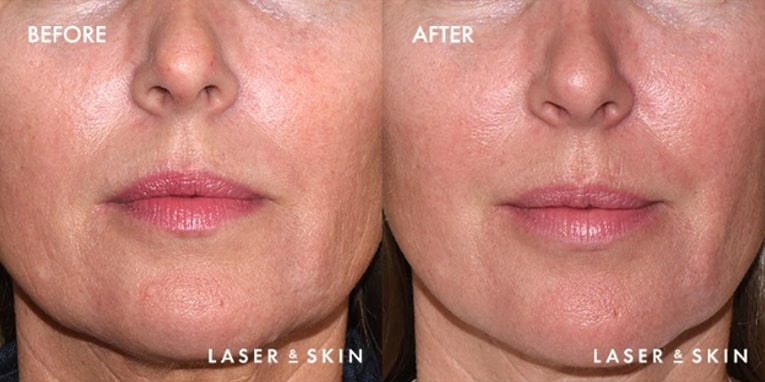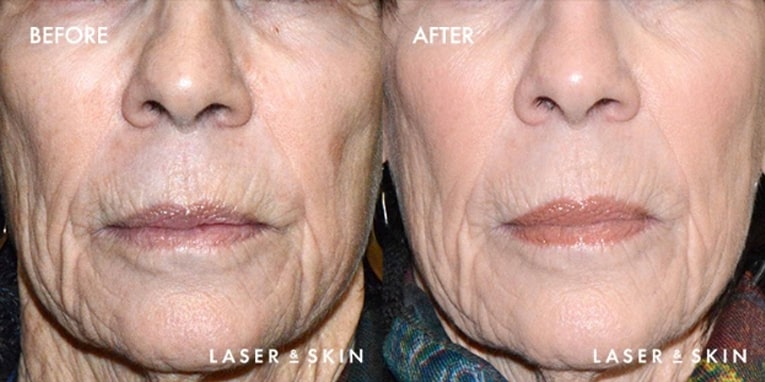 Treatments_Injectables-SilhouetteInstalift1
Treatments_Injectables-SilhouetteInstalift2
Your procedure will only take under an hour and can be done right in your doctor's office. InstaLift also has minimal downtime, with most signs of treatment (ex: bruising, swelling, and tenderness at the treatment site) dissipating within 24–48 hours.
You'll notice an immediate lift in your cheeks and mid-face, thanks to InstaLift's Micro-Suspension Technology™. Its bi-directional cones will keep your mid-facial skin in an elevated position. As time goes by, your body will stimulate its own natural collagen production for a more youthful appearance.
Your physician will give you post-treatment recommendations and an aftercare program to follow to ensure the best possible result.
Frequently Asked Questions
Silhouette InstaLift™ FDA cleared?
The product earned FDA-clearance in April 2015
Who is a good candidate to have a Silhouette InstaLift™ procedure?
Silhouette InstaLift is the ideal minimally-invasive solution for many men and women who are interested in refreshing their appearance without major surgery, injections, or lasers. It offers a new and unique technology to lift sagging facial skin. Suitable candidates have good skin quality, with moderate sagging of the skin in the midface. Skin should not be too thick/heavy or too thin.
What are Silhouette InstaLift™ sutures made of?
Silhouette InstaLift™ sutures are made from glycolide / L-lactide (PLGA), a polymer that is frequently used in medical devices and is well tolerated by the body. The fully resorbable sutures have bi-directional cones; the sutures lift and add volume while the bi-directional cones hold the suture and cheek sub-dermis in an elevated position.
What can Silhouette InstaLift™ do to improve my appearance?
Sagging facial skin is one of the major contributors to an aged and tired appearance. Silhouette InstaLift™ is a minimally invasive procedure that redefines the contours of your midface by lifting the deeper layers of your skin for a more youthful look.
What areas of the face does Silhouette InstaLift™ treat?
The procedure lifts and restores contours to the midface and cheek area.
How is the Silhouette InstaLift procedure performed?
During the in-office procedure, a specially-trained physician will begin by marking the areas of desired lift on the patient. She will then gently insert a needle to a depth of 5mm and guide it through the subcutaneous tissue of the midface and extract at each bi-directional exit point. The sutures have bi-directional absorbable cones that hold them in place. The treatment is generally well-tolerated by patients and takes approximately 45 minutes.
Is general anesthesia required?
No. Your physician will only use a local anesthetic to numb the area before inserting the sutures.
How is Silhouette InstaLift™ different from Thread Lifts?
Silhouette InstaLift™ is an entirely new technology and procedure. Rather than just repositioning the skin, Silhouette InstaLift™ now focuses on the underlying layers of the skin, because that is what really causes sagging. Another important advance is that the sutures are not permanent; they are absorbed by the body over time. As they are absorbed, they stimulate collagen renewal, which helps achieve a younger, natural look.
How much does Silhouette InstaLift™ cost?
The procedure fee varies according to each patient's needs and the number of sutures required.
Where can I have Silhouette InstaLift™ performed?
Silhouette InstaLift™ is only performed by qualified physicians who have undergone special, comprehensive training and are familiar with the techniques required.
Who is a non-ideal patient?
The Silhouette InstaLift™ device should not be used in patients with any known allergy or foreign body sensitivities to plastic biomaterial or in situations where internal fixation is otherwise contraindicated (e.g. infection). The treatment should also not be performed on patients appearing to have very thin soft tissue of the face in which the implant may be palpable or in patients with excessive heavy skin.
What are the side effects that might happen with this procedure?
After placement, patients may experience a minimal acute inflammatory tissue reaction. Symptoms may include minor pain, swelling and bruising. Material sensitivity/allergic reactions should be reported to Silhouette Lift Inc. Implantation of foreign materials in tissue can result in histological reactions. Other potential side effects include sensory nerve injury, asymmetry or banding.
Laser & Skin Surgery Center
of Northern California
Laser & Skin Surgery Center of Northern California Medispa