It's resolution season, and we are all, inevitably, going to be seeing and hearing the phrase, "New Year, New You," throughout the month of January. The thing is, at Laser & Skin, our goal has never been to create a new you. Our founder, Suzanne L. Kilmer, MD, promotes a "less is more" philosophy, with our patients attesting to looking like themselves, only better. Following a year like 2020, the pressure of finding a "new you" may feel a little daunting. 
There is something to be said, though, about finding hope in a new year — resolving to be kinder to oneself — and that is where we are more than happy to help! We believe skincare is self-care, and if you are resolving to treat your body like the temple that it is in 2021, we've put together a small, simple list of resolutions to help you glow from the inside out!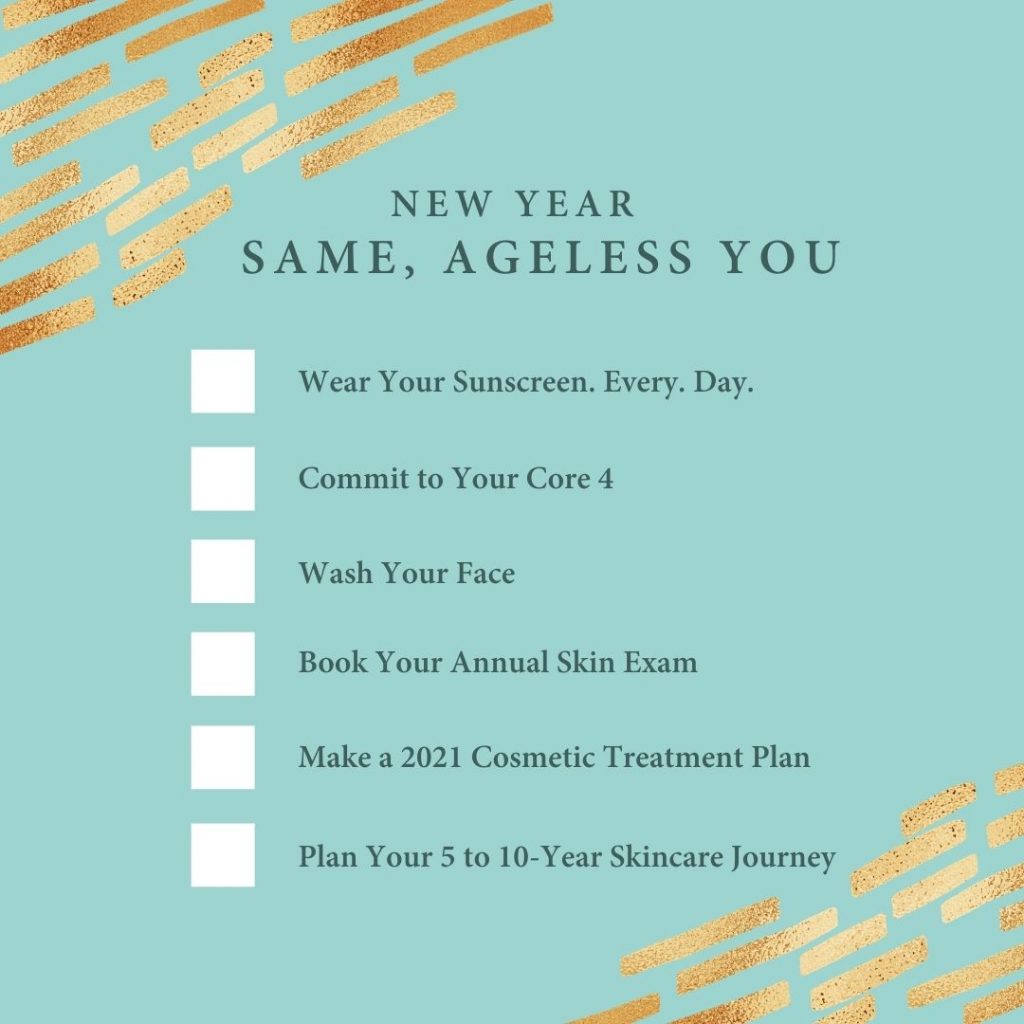 Wear SPF — Every. Single. Day.
If you want healthy, beautiful skin that ages gracefully, the daily use of sunscreen is non-negotiable — even in January during a pandemic that has forced the majority of us to spend our time indoors. 
If you are reading this in a dark room with zero windows, you need the protection of a mineral sunscreen — because there's a very good chance you're reading it on some kind of electronic device. High Energy Visible (HEV) Light, also known as Blue Light, can be emitted from your smartphone, computer screen, and tablet. That means with every Zoom call you make, email you send or Instagram feed you scroll down, your skin is being damaged if not protected. And with HEV Light, you need a specific type of protection: iron oxides.
A recent study, published in the Journal of Cosmetic Dermatology, concludes that "sunscreens formulated with iron oxides provide enhanced protection against blue light, especially when combined with zinc oxide." 
Laser & Skin has a mineral sunscreen for every skin type and situation, including some with iron oxides. Call or click here to schedule a complimentary virtual skincare consultation with one of our specialists to find out which one is best for you!
Find and Commit to Your Core 4
With so many skincare products on the market, we know it's often overwhelming to choose the right ones for you.  The key to building a solid skincare routine begins with just four core products: Mineral Sunscreen, Antioxidant, Retinol, and Specialty Product. The overall goal of the Core 4 is to preserve the health of our skin and keep it in a healthy state. Read more about the Core 4 here.
Our challenge for you is to commit to finding your Core 4 and stick to those four products for the entire year. 
Laser & Skin offers complimentary virtual product consultations. Call or click here to schedule yours and find out what Core 4 products are right for your individual needs!
During the month of January, purchase your individualized set of Core 4 products and get $40 off!
Wash Your Face
Now that you've invested in quality, clinically researched products, you want to make the most of them. Cleansing your face every night is helpful in a number of ways. First, it helps kick off the routine of using your products regularly. Washing away environmental pollutants and impurities also allows for a clean slate when it comes to applying your topicals, allowing them to absorb, rather than just sit on the surface. 
Research in the Indian Journal of Dermatology explains why the use of a cleanser, and not just water, is important:
"Many of the environmental impurities and cosmetic products are not water-soluble and so washing the skin with simple water would not be sufficient to remove them. Substances capable of emulsifying them into finer particles are to be used for making these fat-soluble impurities water-soluble."
As with everything else in skincare, every individual's needs are different. Book your complimentary product consultation to find out how you should be cleansing your skin!
Book Your Annual Skin Exam
When was the last time you had your moles checked? It's important to book a skin exam with your provider at least once a year (more if you have any history of skin cancer or melanoma). To get a behind-the-scenes look of what a skin exam is like, watch the video linked here.
Book Your Annual Consultation to Make a 2021 Cosmetic Treatment Plan
The importance of a consultation cannot be overestimated. Every individual is so wonderfully unique — how can we choose the right path for you without seeing you and speaking with you first? Beauty is not one-size-fits-all.
At Laser & Skin, we prioritize your concerns first. You bring us your concerns, and we'll offer you solutions. During a consultation, we'll discuss your skincare goals, your ability to tolerate a treatment and to heal from it, the amount of downtime you can afford, and your budget. Once we take all of those factors into account, we decide the best route for you.
And while you're here…
Plan Your 5 to 10-Year Skincare Journey
Skincare is a lifelong journey — a marathon, not a sprint, if you will. To make that journey as simple as possible, it's important to plan ahead and protect the investment you are making for your skin.
For example, one of our favorite ways to turn back the hands of time is with a CO2 Resurfacing treatment. But once you invest in the time and cost of the treatment, you still need to maintain those results. You wouldn't invest in a major backyard renovation and then not water your plants, would you? 
We want you to remember that we are your partners in this journey. We want you to love your results and enjoy your healthy, beautiful skin. We can't wait to help you make a plan toward ageless beauty.
Happy 2021!