Gentlemax for Laser Hair Removal uses a dual-wavelength to gently yet permanently reduce unwanted hair.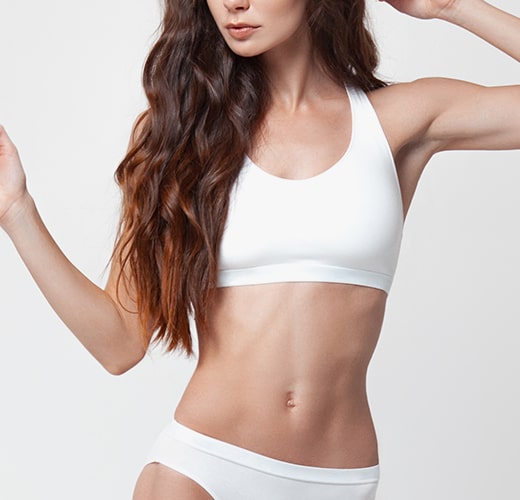 The Gentlemax uses a dual-wavelength of 1064nm or 755nm. Treatments work by killing the hair follicle, which absorbs heat from the laser when the hair is in an active growth cycle, thus preventing the hair from regrowing. (Think of the follicle as the bulb of a flower. Once you destroy it, it can't grow.) While the hair removal is technically permanent, every hair grows in a different cycle, which is why you need to do multiple treatments. You can't kill them all at once.
Laser Hair Removal is a safe, quick procedure, after which patients are free to go about their day as usual. However, there are some effects of the treatment that can occur for several days after. The area treated may be red, swollen, and tender, not unlike a mild sunburn.
Frequently Asked Questions
What are the benefits of laser hair removal?
Laser treatments leave your skin smoother and silkier. Best of all, laser hair removal treatments are safe, fast, gentle, and effective.
What are laser hair removal treatment areas?
Laser treatments can treat several follicles at once, so it is possible to treat larger areas such as:
the back
the shoulders
the arms
the legs
the face
Why do laser hair removal?
Larger areas may be treated using lasers than with electrolysis or tweezing. It combines the speed of shaving with the lasting results promised by electrolysis. Laser hair removal is effective on almost any area of the body where smoother, younger, hair-free skin is desired.
How does laser hair removal work?
The laser slows the growing capacity of follicles in the growth cycle at the treatment time. Some hair follicles may be in the resting process and not enter their growth cycle until after your treatment, which is why multiple treatments are often required to deliver optimal results. Treatment results will vary from patient to patient, depending on skin and hair color and other individual factors.
What lasers are used for laser hair removal?
Clarity II(755nm and 1064)
GentleMax Pro® (755 + 1064nm)
GentleLase™ (755nm)
How does laser hair removal differ from electrolysis?
Electrolysis is a much slower process. With electrolysis, a needle is inserted into each hair follicle, one at a time. Once inserted, an electric shock burns the follicle to retard hair growth. Laser hair removal uses the laser's light to scan the treatment area, and within seconds all of the pigmented hairs in the laser's beam are treated. Patients who have had both procedures say that laser hair removal is less painful, faster, and more convenient.
What occurs in a laser hair removal treatment session?
Laser hair removal is a gentle, three-step process. First, the shaved area is scanned with the laser. Next, laser energy passes through the skin and is absorbed by the pigment in the hair follicle. In a fraction of a second, the hair follicles are treated.
How long is a laser hair removal session?
Treatment sessions can last from a few minutes to over an hour, depending on the size of the area being treated. After your treatment, you can return to your normal activities. The use of sunscreen is recommended on any treated areas exposed to the sun.
How many laser hair removal treatments are needed?
The number of treatments you may require for optimal long-term benefits depends on the area you wish to have treated, the hair density, and your hair's growth cycle. Your hair grows in cycles, and many factors influence its growth. Age, ethnicity, weight, hormones, diet, medication, and metabolism all play a part in your hair's location, thickness, and rate of growth. Based on large clinical trials, 70% hair reduction is usually achieved after 3 treatments, but 4-6 treatments may be needed for greater than 95% removal.