Fraxel Laser treatments have revolutionized the way we approach sun-damaged and aging skin. Fraxel is effective on fine lines & wrinkles, surface scarring, pigmentation, sun damage, and Actinic Keratosis (AK). A clinically proven, safe approach with less risk than fully ablative resurfacing.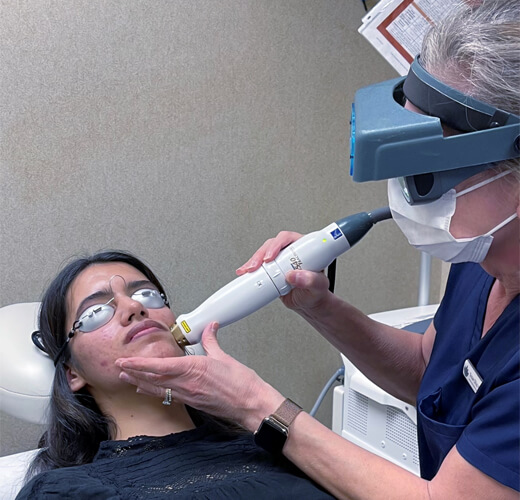 Fraxel DUAL 1550/1927 laser treatment targets aging and sun-damaged skin with microscopic laser columns that penetrate deep into your skin to expedite your body's collagen remodeling. And since the laser treats only a fraction of tissue at a time, it leaves the surrounding tissue intact, promoting rapid healing. Fraxel treatment resurfaces your skin by stimulating the growth of new, healthy skin cells from the inside out.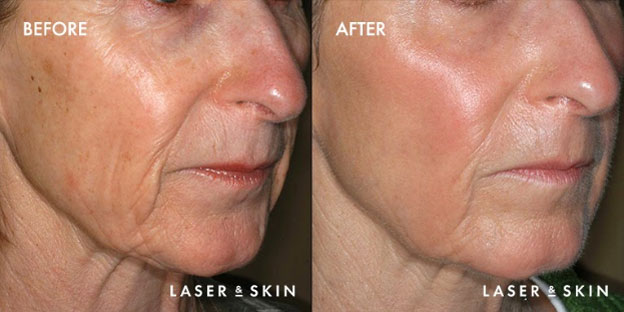 You will experience a mild sunburn sensation for about an hour after treatment and then virtually no discomfort. The skin will have a pinkish tone for five to seven days. New epidermal skin develops within 24 hours. The process of skin repair involves:
Bronzing: Your skin will have a bronze appearance that lasts anywhere from three to fourteen days, depending on the treatment level.
Flaking: Your skin will naturally and vigorously exfoliate as the reorganized epidermal skin replaces dead tissue. Flaking is similar to that of minor sunburn, without the associated pain. Use of a moisturizer will mask the appearance of flaking.
Sunblock: Use sunblock at least twice daily to protect your skin from sun exposure during the healing phase and for several months after treatment. Our product specialists can recommend a sunblock appropriate for post-Fraxel treatment. For added protection from sunlight, use wide-brimmed hats.
Over the following weeks and months, the body repairs the deeper dermal tissues that have been affected by fractional laser treatment producing beneficial changes associated with a healthy appearance of your skin.
Frequently Asked Questions
What happens before a Fraxel Treatment?
Before treatment, you and your doctor will discuss which areas of your skin are appropriate for treatment, what kind of results you can expect, what to look for after treatment, and how often treatment will be scheduled. Because Fraxel spares healthy tissue, it is effective even on delicate skin areas, such as the neck, chest, and hands.
Fraxel laser treatment can be performed right in your doctor's office using only a topical anesthetic. The treatment area will be thoroughly cleansed right before the procedure, and the laser is gently "rolled" across the skin.
What precautions should I take after a Fraxel?
Where broad-spectrum sunblock of SPF 30 or higher, avoid direct sun exposure for at least three months after your last treatment and wear a wide-brimmed hat when you're in the sun. 
Does a Fraxel treatment HURT?
Most patients describe an increased sensation of heat during the treatment. To minimize discomfort, topical anesthesia is applied before the procedure, and cold air is used on the treatment area. After the treatment, most patients feel like they have sunburn, which usually diminishes in 1-3 hours.