What is Clear + Brilliant?
Clear + Brilliant is a gentle fractional laser treatment that is beneficial for women and men of all ages and skin types who are looking to prevent the signs of aging, help address early signs of aging or maintain the look of their skin.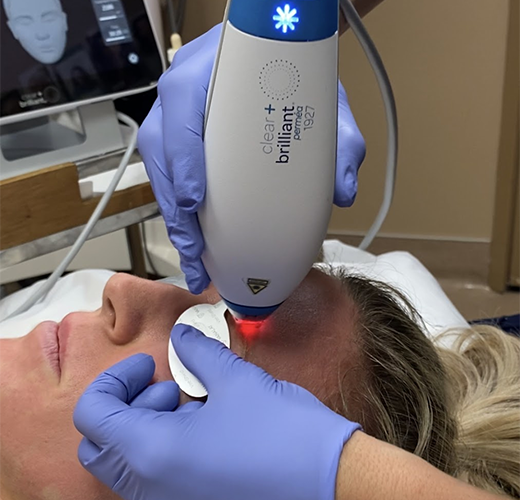 Clear + Brilliant works by creating millions of microscopic treatment zones in the upper layers of the skin, replacing damaged skin with healthy tissue, and yielding younger-looking skin.
Clear + Brilliant treatments are very gentle and specifically designed to minimize the side effects of typical laser treatments. You may experience some redness and subtle inflammation right after the treatment. These generally resolve within a few hours but may last until the following day.
Frequently Asked Questions
How many clear + brilliant treatments will I need?
The number of treatments you will need depends on your desired outcome. In recent studies, subjects reported visible improvements after four to six treatments. Your physician will discuss a personalized treatment plan for you at the time of your consultation.
What kind of results can I expect from clear + brilliant?
Your skin may feel softer and have improved tone, texture and radiance.
When do the results appear, and how long do they last?
The results of treatment are both immediate and progressive. A few days after the treatment, your skin will start to feel softer, look brighter and show more even tone. Results can last for months.
Does clear + brilliant hurt?
Most patients describe an increased sensation of heat during the treatment. We apply a topical anesthetic ointment before the procedure, which helps to minimize the discomfort during treatment.
Can I get clear + brilliant treatments if I've already had other procedures?
Clear + Brilliant may be complementary to most other cosmetic procedures including Neuromodulators (Botox and Dysport), Fillers, and Thermage.
How long is a Clear + Brilliant Treatment?
Clear + Brilliant treatments take about 30 minutes or less. However, total appointment times will vary.